What is Airstates?
Last year I met a fellow RV'er at Starved Rock State Park Campground in Illinois. He proudly showed me his "brag board"—a United States sticker map that traced where they've been so far in their travels. Each state he'd been to had a gem of a story.
I wanted a brag board too, but I wanted a design that would fit the style of our 19' Airstream Flying Cloud. Unfortunately, there aren't any out there like that.
That's why I made the Airstates United States Checklist. It matches perfectly with your Airstream trailer—almost looking like it came that way straight from the factory.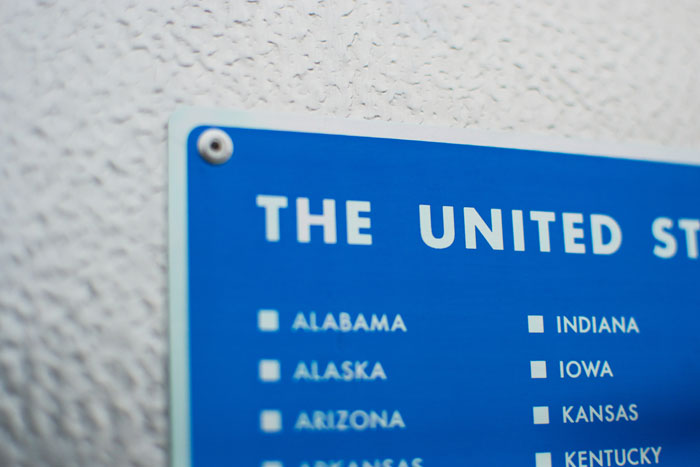 Aluminum made (in the USA)
The Airstates Checklist is made from laser-engraved 0.025 inch thick aluminum. 4 pre-drilled holes for securing with 1/8" diameter rivets, soft rounded corners for a classic look. Use a Sharpie® marker to tick off a state after you've visited. Made in the USA.
Customers love it…
"It's a perfect Airstream product! Fantastic design." — Laura
"Airstates arrived and I'm so excited about it!" — Kate
"More beautiful than the picture!" — Bruno
Thank you
Thanks for taking the time to learn about this product I've made. If you have any questions please email Jamie (that's me) at airstates@gmail.com.
Money-back guarantee: If you're dissatisfied with my Airstates USA Checklist just send it back for a full refund. No questions asked. I hope you and your family enjoy (and brag about) the many adventures ahead. Happy travels!